Chris Schoeman ontgin 'n veldkornet se konsentrasiekamp-dagboek in Vegter en balling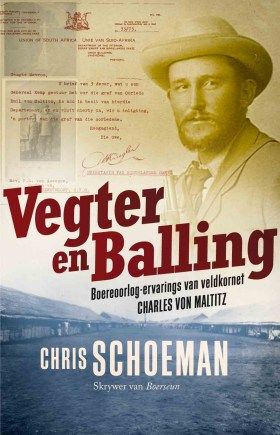 Hoe moet dit voel om vir maande, selfs jare, van jou familie geskei te wees en geen idee te hê of jy jou plaas en jou land ooit weer sal sien nie? Dít was die lot van duisende Vrystaatse en Transvaalse burgers wat gedurende die Anglo-Boereoorlog krygsgevange geneem is.
Veldkornet Charles von Maltitz se merkwaardige dagboek bied 'n blik op wat gevangenes in die kampe in Groenpunt, St. Helena, Ceylon, Indië en elders deurgemaak het. Vir die meeste het dit fisieke ontberings en emosionele swaarkry gebring, vir sommiges selfs die dood.
Met sy raak waarnemings skets hy 'n prentjie van die alledaagse lewe in die kamp: hoe die mans besig gebly het, hul verhouding met hul Britse bewaarders en hoe die politieke stryd tussen die hendsoppers en die bittereinders in die kamp voortgesit is. Daar is ook skokkende onthullings oor sekere Boervroue se ontrouheid gedurende hul mans se aanhouding.
Von Maltitz se lieflike humorsin sorg voorts vir kostelike beskrywings van mede-gevangenes en kamptoestande. Dit is ook sy humorsin wat hom red wanneer hy onsuksesvol probeer ontsnap uit sy kamp in Indië en daarna vir weke in eensame aanhouding is.
Oor die outeur
Chris Schoeman is in Somerset-Oos gebore en het meestersgrade in geskiedenis aan die Universiteit van Port Elizabeth en Colorado State University verwerf. Hy is 'n historikus en joernalis, en is die skrywer en medeskrywer van verskeie boeke, onder meer District Six: The Spirit of Kanala, asook die outobiografieë van die Springbokhelde Danie Gerber, Frik du Preez en Os du Randt. Sy jongste boeke sluit in Slow Death: Memoirs of a Cricket Umpire (met Rudi Koertzen), Boots & Brannewyn (met Frik du Preez), The Number 10s: South Africa's Finest Flyhalves, 1891–2010 en Boerseun: Memoires van 'n Anglo-Boereoorlogseun.
Boekbesonderhede